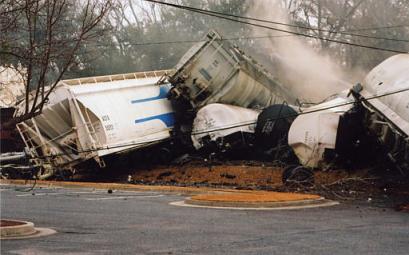 Funny, I always imagined
Diane Rehm
to resemble some sort of cardigan-wearing, grandmother-type. Her show--on form this morning--is really THE reason to support NPR, even if she still occasionally suffers from the 'suffer the children' Christian prejudice. Of course there's always Alan Chartock's
little empire of sophistication
too. Any shortwave radio fans out there?
When I heard about
this
little
catastrophe
(don't think too hard about it, these things are inevitable), all I could think of was the eerily nostalgic scenes (already nostalgic! But then isn't all futurist writing?) from DeLillo's realist/dystopian novel
White Noise
. Is this possible? Can novels be realist, nostalgic and dystopian at once? At what point do such exercises, to some degree dramatizing the entirely predictable, become normative or risk naturalizing the very conditions they seek to expose and critique? Would that be a fundamental misreading? Perhaps the question is more appropriate to pose in relation to Ulrich Beck's
Risk Society
. Like Habermas, Beck's more traditional, rigidly sociological writings risk naturalizing what he likes to call "The Risk Society," if not even, in some sense, what Derrida liked to call "the worst" itself. Which is precisely why the poststructuralist critique (and not Eagleton's watered-down version) is so important and so very inescapably necessary. How else for "the inevitable" to be rendered otherwise, really?
In a photo opportunity at the White House, Bush was asked about comments by Brent Scowcroft, a retired Air Force lieutenant general who served as national security adviser under presidents Gerald Ford and George H.W. Bush and until recently chaired the President's Foreign Intelligence Advisory Board. Scowcroft told a Washington luncheon yesterday that he expects "an incipient civil war" between Sunni and Shiite Muslims in Iraq after the Jan. 30 elections. He said the U.S. military presence in Iraq is inflaming the Middle East and hurting the war on terrorism, and he suggested turning the operation over to NATO or the United Nations.


"The Iraqi elections, rather than turning out to be a promising turning point, have the great potential for deepening the conflict," Scowcroft said at the New America Foundation luncheon, expressing a view increasing shared by both Democratic and Republican foreign policy specialists.

Asked if he shares Scowcroft's concerns, Bush told reporters today, "Quite the opposite. I think elections will be such a incredibly hopeful experience for the Iraqi people."

He said that 14 of Iraq's 18 provinces "appear to be relatively calm." The four remaining provinces "are places where the terrorists are trying to stop people from voting," he said. "So I know it's hard. But it's hard for a reason. And the reason it's hard is because there are a handful of folks who fear freedom."
Ah, reasons. It's hard because the terrorists are
stingy
. Got Civil War?
Got
Cancer?
Does the cynicism of late capitalism have any other limit than apocalypse? I confess that David Wallace's new book annoys me, although I've only just begun. In endlessly toying with the possibilities for absurd situations (a "postmodern Borges," let the critics collective gush), he seems on some level content to be an entertainer
merely
. After all, there is life after parody. There is a grown-up world to share after going through the professional student-grooming machine. To mistake the machine for the world. Why oh why are so many writers content to be one trick ponies? To be fair, Foster Wallace does go a ways toward re-thinking such things as limits of course, in his way. His psychological delvings are often brilliant, and he is clearly a master of form, especially for those with the very precise declination of boredom to meet him on the page. The impact is often sort of breathtaking, really. In a persistently excessive and simultaneously picayune kind of way.